Spock and Kirk....onstage in Sacramentto for ST:VI's opening day.
"There Be Whales Here!"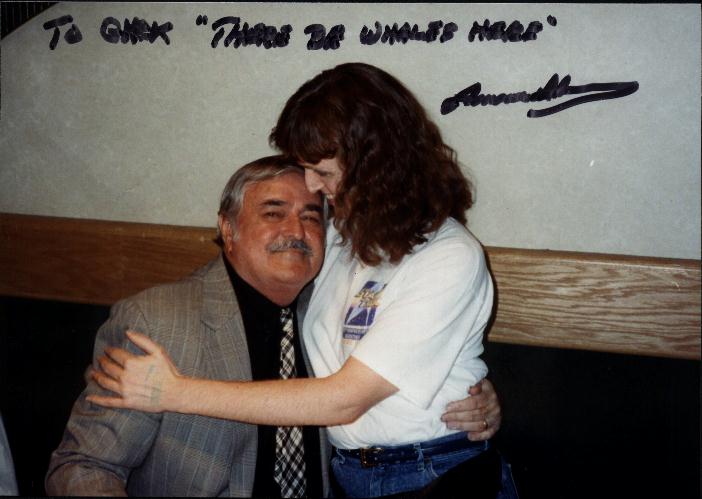 Kitty Cosmos (Laurie Masters) on Scotty's lap at a Santa Rosa con. (She was the only one so privliged that day.)
The larger of the two Enterprise models used in filming the original series hanging in the Smithsonian Air and Space Museum in Washington DC.
Q....after a few drinks or so he would try to convince us....in the afternoon.
When Leonard Nimoy would stop speaking, he would often turn and look in my direction.....or was it my imagination......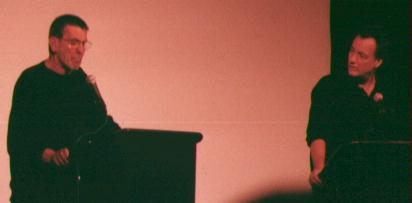 www.alienvoices.com - where you can get the audio performances from the company that Leonard Nimoy and John de Lancie run...tonights question "Why shouldn't Q let the earth be destroyed?" [Sorry the pics are so bad, but I was far back using telephoto without a flash.]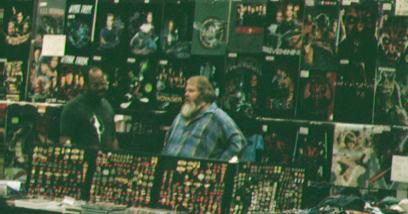 www.starbase21ok.com - they have quite a wide collection of shirts and other stuff for star trek and other sf shows/movies. (based in ok - Oklahoma).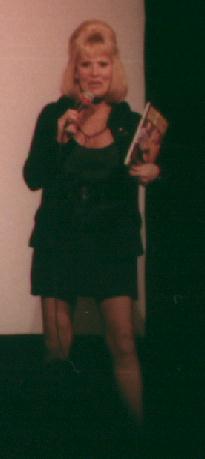 Grace Lee Whitney - still in great shape and single...hoping God will send her a companion....get her book "The Longest Trek - My Tour of the Galaxy".
Grace enjoys answering questions....and was available for autograph signing most of the day.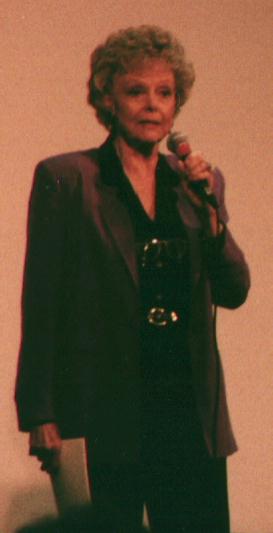 One of a half dozen suprise guests at the convention, June Lockhart...everybody's mom..... Lost in Space inspired engineers and astronauts to go into space with the idea of living there.
Here are I (Ghek) and Lord Darkwater on the practice stage (bridge) belonging to star trek band Warp11. As it was filmed in Trekies 2, in the back of Slow Type's studio, where it was set up for several months. One evening I spent over half an hour alone on the "bridge", with lights and sounds running it was a very special time, I felt "home".
Some day I'll make it to one of Warp11's concerts (happenings), It will be great to see the ever fabulous Kiki Stockhammer in those skimpy leather and vinal outfits (pix at their website), as I could only imagine her years ago when she used to demo software/hardware for Play, Inc at the Sacramento PC user's group meetings.
Grand Slam 2003 - Leonard Nimoy kissing Carrie Fisher, or is it the other way around....William Shattner looks on in shock...he only got a hug. What could possibly come from such a crossing.....pehaps the picture below?
Well, we can always hope this might actually happen at a convention someday!! (courtesy of yahoo group "Buffysmetalbikini")
Back to the main